Brendan Brazier came and spoke at our local Fiddleheads a couple of weeks ago and I unfortunately found out the day after. For those of you not familiar, Brazier is a vegan triathlete, holding titles in Ironman competition. He has been an amazing symbol of the capacity of the vegan diet (and has single-handedly helped limit the common stereotype that vegans are protein-deficient, sickly and at health risk). His book Thrive is a best-seller, discussing a whole foods approach to dieting. Admittedly I haven't read it yet...believe me, I will get there, but my thesis has really been weighing down my reading-for-interest capacity as of late.

He is also the creator of Vega, a vegan nutrition product line, which includes vegan versions of many popular fitness-related food items (i.e. protein shakes). The husband has been working on his fitness quite intensely lately, and has been missing the whey protein shakes of his teen years. On our weekly trip to Fiddleheads, we spent some time looking around the protein supplement section. Now, I have to admit, I am a bit skeptical about the shelves and shelves of vials containing "ancient, natural" ingredients promising relief from every ailment under the sun: acne, obesity, greasy hair, cancer. I'm not sure one single vial can do anything for you, and I also don't believe that just because something is labelled natural it is somehow safe for consumption. There are a lot of big business corporations with their hands in the natural industry and so this is not the same as picking a flower in the wild and then making it medicine. Similarly, there are a lot of things on our planet that do occur naturally and are still not safe for human consumption. I'm not knocking the natural health industry (that would be counter-productive, as I work in it), it all just reminds me of the South Park episode where people rush to the new age store to buy the most random things (i.e. "cherokee hair tampons") because "if they are natural, they must work". All I'm saying is that a little skepticism never hurt anyone.

Anyway. Protein supplement shakes are really no different than the vitamins we all (vegan or not) should probably be taking everyday, because we're not as diligent with monitoring our food intake as we could be. So, Paul picked up a trial pack of Vega meal replacement to see if it could compare to what he remembered of whey shakes.


This review of it is based entirely on Paul's experiences, as the second he mixed it with rice milk and lifted the lid on the blender he announced that it smelled like mushrooms and I ran for the hills. I have this weird aversion to the smell of mushrooms...yes, I'm aware that this makes me a giant baby. I am not big on mushrooms at all, I can take them or leave them, but I take them more often than not to reap their nutritional benefit. I will eat fresh mushrooms, but I
cannot
handle the smell of canned mushrooms. And I cannot,
cannot
think about how they smell while I am eating them.
He tasted it and announced that it not only
smelled
like mushrooms, it tasted like mushrooms. And chocolate. And rice milk. Um, yum?
He downed it and chased it with orange juice, so I think the verdict is that he did not care for it. Not knocking Brendan Brazier here. I can barely contain my excitement over Thrive and incorporating his tips into my diet...it is just this particular product that was a bit of a miss in our household. I believe the word Paul used was "inedible", which is strange, because he pretty much eats anything. Perhaps chocolate wasn't the right flavour, but I think he might be scarred from trying another one.
The one thing he did like was the high amount of protein and the boost it gave his daily run/workout. So, we thought we'd try our hand at making our own protein shake: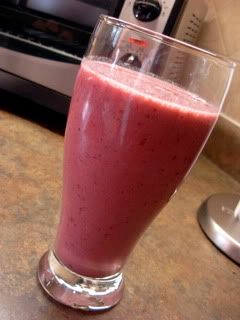 Now, we by no means are advocating this as a meal replacement as we have no idea what goes into making a shake like that. This is just a high-protein pre- or post-workout refreshment. It contains orange juice, rice milk, mixed frozen berries, a banana, and for protein, hulled hemp seed and ground flax. Also, a crushed vegan multi-vitamin to amp up its nutritional value.
The verdict...delicious. And no mushroom smell coming from the blender. He is now gone for his run to see how it really measures up, and I am sitting here getting ready to bake cupcakes - cupcakes are so much more fun, no? Even I am not that ridiculous. I am missing today's workout but only because I am baking these cupcakes as a gift (and also because I am lazy).