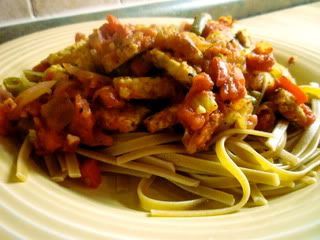 I've never in my life had chicken cacciatore, so I'm not exactly sure what prompted me to try making a vegan version of it. I think i saw a picture somewhere and thought it sounded interesting..plus I had a bunch of random stuff in my fridge and cupboards that needed to be used.
It was okay...I don't think I put enough spice in it and I think next time I'll used fresh tomatoes instead of canned diced OR go with canned crushed because I always find canned diced tomatoes to have a bit of a sour taste to them. Could just be me and my weird taste buds.
I like the idea of cacciatore, which involves a mishmash of slowly stewed vegetables (carrots, green beans, onions, bell pepper...anything would probably go, really) this just didn't have as much flavour as I wanted it to. Perhaps a hot pepper and some more oregano and marjoram will do the trick next time because the flavour was good, it just wasn't strong enough.
Plus the fettuccine noodles that I used were not great...they are the PC Blue Menu whole grain. They were on sale and $2 cheaper than the
Eddie's Spaghetti
brand I usually buy (which is organic, vegetable-based as opposed to strictly wheat-based and so ridiculously awesome) but I found them to taste like rubber even though I cooked them twice as long as I normally cook pasta. I could be doing it wrong, but I don't like my pasta cooking to be too complicated so I think I will pass on this particular Blue Menu product in the future.