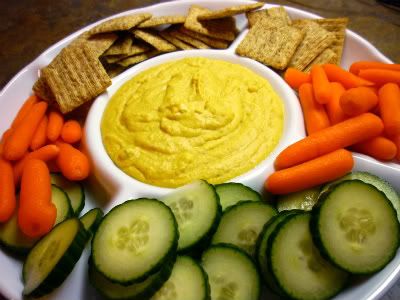 I see the merits of having Thanksgiving in November. While I do prefer having it in October here in Canada, I think having Thanksgiving a little closer to Decmeber 25 could delay the inevitable Christmas chaos a little bit.
That being said, I'm definitely already in Christmas mode and our tree is definitely already up. And a quick glance at the calendar verifies that today marks exactly one month until the big man in red makes his rounds.
As such, I've been plotting food ideas for the various holiday parties and gatherings we have going on. Which is something I absolutely love because I really, really love apps and finger foods and the idea of grazing casually over a several-hour span, something that the waistline very rarely permits.
Vegan Christmas ideas are a bit tricky. You don't want to put out something too "freaky", because among some circles it may prompt a refusal to sample. Although it is kind of funny to see the panic on faces when you hint that tofu might be listed among the ingredients of whatever people are scarfing down. Back in the day, my face probably would be among those panic-stricken, don't get me wrong. It's just that now I find it kind of peculiar that a soy bean is considered weird and gross while something that was at one point squeezed out of a cow's nipple is considered quite normal and appetizing. One of the many items on my list of "Things that Make You Go Hmmm".
As a result of this peculiarity of our culture I generally try to avoid using tofu in party foods, because in my experience there is a lot of reluctance toward trying it. And generally I do try and eat minimal amounts of soy myself, so tofu-free dips and treats are a-ok with me.
This is a warm bean dip from
Eat, Drink and Be Vegan
. To me, it is reminiscent of the warm dips listed on menus of chain restaurants (in a good, comfort food kind of way). It goes great with fresh cut veggies and crackers, so it is perfect for the Christmas potlucks that are so popular this time of year. It also works great as a sandwich spread, if you're lucky enough to have any leftover.