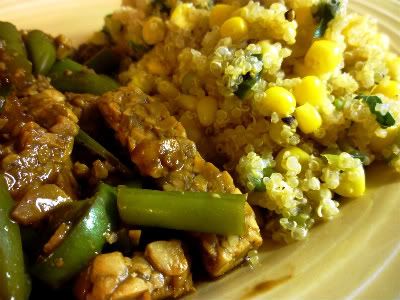 Paul and I have decided to up our workout game. Before you congratulate us too much, all this means is that we are moving from a total sloth-like state to one in which we break a sweat on the treadmill every now and again (as an aside, winter needs to be over because I really and truly despise staring at a wall while I run).
I really know nothing at all about fitness. It's kind of embarrassing, actually. And I hate being sweaty (although I'm slowly learning to love the feeling that follows an extra long run).
I like eating though. I really, really like eating. And I hear a lot about the importance of protein post-workout. So while I am in
plank
position and spitting out every curse word that I have ever heard in my life (English or otherwise) I like to think about all the protein-rich food I get to eat at dinner.
My favourite in-YO-face-lovehandles-and-diabetes protein source is
quinoa
. We've been eating a lot of it lately. So, Thursday night was a
Vegan Express
night, with this quinoa-corn-scallions dish and an amazing, amazing, amazing combo of tempeh, veggies and miso mushroom gravy.
For the record, it's supposed to be a shiitake-miso and not a cremini-miso but I nearly had a heart attack when I saw the price of shiitakes last week and decided to improvise.