When I bought the Sarah Kramer
Go Vegan
2010 calendar, I thought it would be cool to cook my way through the year by making each of the monthly recipes as I flipped the calendar pages. So I'm feeling a little bit like
Julie Powell
, except not, because I don't particularly care for her or
her ignorant comments regarding veg*ism
(although there
is
a rumour floating around the veg-o-sphere that
Jonathan Safran Foer
may have
gotten through to her, ever so slightly?
).
Anyway, this month's recipe is for a spicy peanut and kale pasta. Peanut butter in pasta - say what?!
I had to try this.
In March, I challenged myself to a two month No Peanut Butter Challenge when I realized I was abusing my nutty privileges. (I found myself topping spoonfuls of peanut butter with chocolate chips in an attempt to recreate the Reese's peanut butter cup. On a daily basis. Yikes.)
But whatever, this recipe obviously needed to be tried. For the sake of the calendar!
It came at the perfect time too, because my mom (who loves to buy me unique pastas from specialty stores) gave me a bag of hot pepper penne noodles: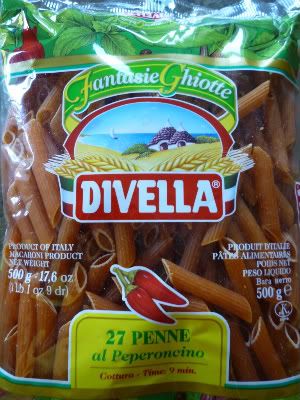 Dried hot peppers are mixed in with the flour - how crazy and awesome!
The noodles are crazy. Putting peanut butter in pasta is crazy. But you know what, you get enough crazy together in one place, you find yourself having a pretty darn good time. Dinner was fabulous - and the added calcium boost via kale ensures you don't have to feel too guilty about eating like, seven servings (ah, you should probably still feel a little guilty).
Does this mean I have to start my No Peanut Butter Challenge over again?