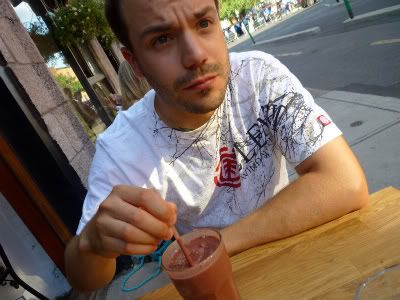 While Chuchai and Aux Vivres were amazing, the restaurant called
Crudessence
on Rachel Street in Montreal holds a special place in my heart, because it is there that I realized the power of raw/living cuisine.
I've noted my apprehension toward raw vegetables in the past, regardless of my firm belief that a diet consisting mostly of that which is considered "living" is optimal for health and longevity.
When I first went vegan I was pretty ignorant with regard to the raw lifestyle. I pictured a whole lot of salads and handfuls of nuts. I never dreamed that such things as pizza, hamburgers and pasta were within the raw realm. Creeping around the interwebs made me quickly aware of how misguided I was, yet I was still nervous to try my hand at preparing it myself.
Lucky for me, in Montreal I had the opportunity to have someone prepare it for me.
While we were having dinner at
Chuchai
the woman at the table over got wind that we were from out of town, so she recommended that we try
Crudessence
. We weren't sure we would get the opportunity to head out that way, but after several people confirmed that it was one of the best eateries in Montreal (and vegan and raw), we knew we would regret missing it.
We started off with smoothies (it feels like we had a million smoothies this past weekend):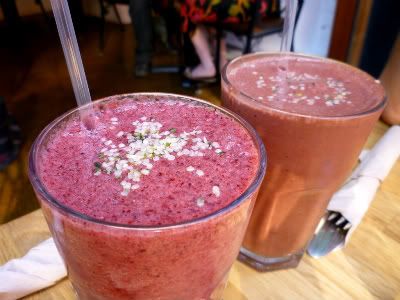 I went for the Loco-Local (elderberry, strawbery, raspberry, apple and maple syrup) and Paul tried La Gallant (cacao, strawberry, raspberry, banana and hemp milk).
For the main course I gave the cheese pizza plate a try: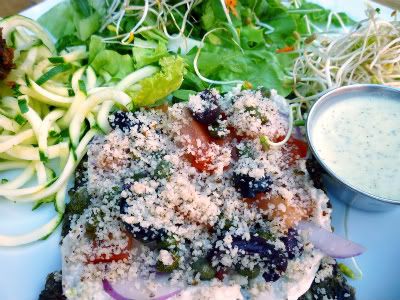 The "cheese" is made of a mixture of cashew and macademia nuts and the pizza is topped with capers, black olives and crumesean. The "crumesean" is made of brazil nuts. It's served with two sides: a zucchini ribbon pasta with a delicious tomato sauce topping and a caesar-esque salad.
Paul got the Om burger plate: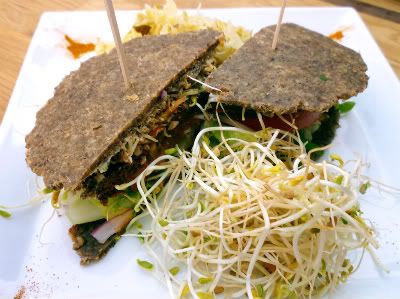 The burger itself is made of mushrooms, flax, sundried tomatoes and a host of other veggies topped with fresh tomato, lettuce, onion and healthy doses of homemade ketchup and mustard. It also has their famous caper aoili as a topping.
We were completely blown away by
Crudessence
. Like I said, we were pretty ignorant about the raw lifestyle and had previously never had the opportunity to interact with it. We really had no idea what to expect, but we loved everything! If we have to pick a favourite, I think it would have to be the Om burger - look at it, it's amazing!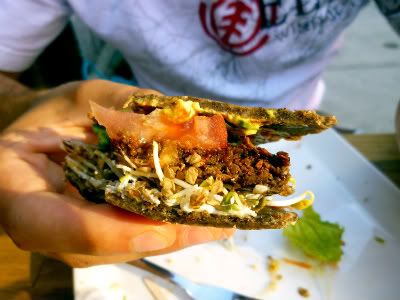 I was stuffed beyond all belief by the time I was done eating, but I couldn't resist trying a raw dessert. And they had my all time favourite cake variety available - living carrot cake!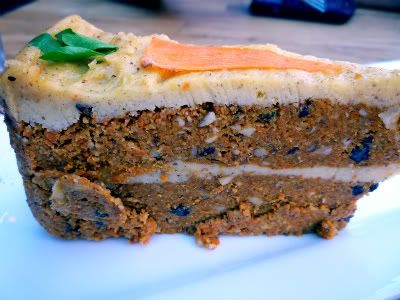 It goes without saying that Crudessence gets the
This is Vegan: Seal of Approval
along with the other two restos we tried. They are not only fabulous eateries, but those working behind the counter are tireless crusaders for all that is vegan and ethical. Their vested interest in that which is organic, local and animal-free is truly inspiring, check out the
values
section of their website for more info, and if you're in the Montreal area, make your way to Rachel Street to try this incredibly innovative restaurant. You won't be disappointed.
I just wish I lived closer so that I could participate in one of the
"uncooking" classes
that they offer!
Crudessence
105 Rachel W Street
Montreal, Quebec
H2W 1G4
(514) 510-9299
We had the opportunity to try three vegan-friendly restaurants while in Quebec and not one of them disappointed us. Because I don't often get the opportunity to interact with vegans in an all-vegan environment here at home, it was a truly invigourating experience to see the cause so alive and well out there in the world.
Thanks, Montreal!