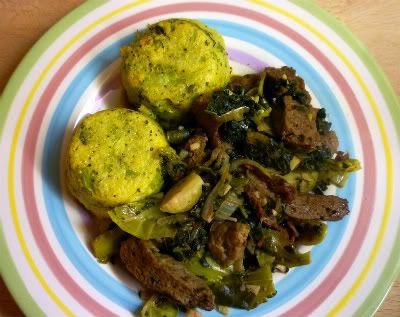 Here's another Mofo post that comes courtesy of
Veganomicon
. I chose it because I wanted a glass of wine and it gave me an excuse to open a bottle.
A little for you, a little for me
Polenta is one of my favourite foods but nutritionally it's usually kind of lacking. Not this one, though! I love how it has just as much broccoli as it does corn grits.
Polenta can sometimes be a real jerk to make. I find when I stir the cornmeal in, no matter how vigorously I whisk away at the water while doing so, it splatters all over the kitchen it seriously hurts when it hits your skin. My mom, who has been making polenta a lot longer than I have, recently gave me a trick of the trade: take the pot completely off the heat while stirring in the polenta or immediately afterward, at least until it's adequately combined. Recipes never tell you to do this and it always makes such a mess. Taking it off the heat definitely takes away the splatter potential and I do it regardless of what a recipe says.
After the polenta and broccoli have simmered on the stove for a bit you put it into muffin tins and let it set in the fridge for about an hour:
Once they have set enough that you can pry them out with a fork, they are ready to go onto a baking stone and then under the broiler. I only gave them about 40 minutes in the fridge - I was hungry last night! They sit nice and close to the broiler for 7-10 minutes, until the tops are lightly browned and crispy.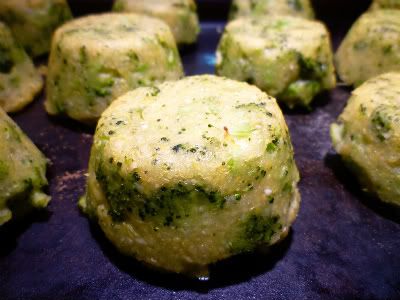 If you don't have a baking stone I urge you to get one - I have three and they are all practically black, I use them so much! In the meantime, feel free to use a greased baking sheet.
You can serve the little polenta tarts with whatever you want. I went with the Braised Seitan with Brussels Sprouts, Kale and Sun Dried Tomatoes recipe that is also found in Veganomicon (online copy found
here
). I don't know if it's the use of wine or what, but this meal feels so fancy and sophisticated - although that is coming from a girl who just this morning dipped tortilla crumbs into mango salsa and called it breakfast.