I always get uber excited when Bryant Terry's
Vegan Soul Kitchen
comes up in my cookbook rotation. It is by far the most interesting cookbook I've ever owned. I haven't had much opportunity to try African-American cuisine so I don't have much to go by in terms of comparison to non-vegan versions of his meals, but his cookbook has given me the chance to try so many new meals and foodstuffs I probably would not have come in contact with otherwise.
Dirty rice is a Cajun dish that I would have never eaten, even before going vegan. What the hell is a giblet and why would someone eat it?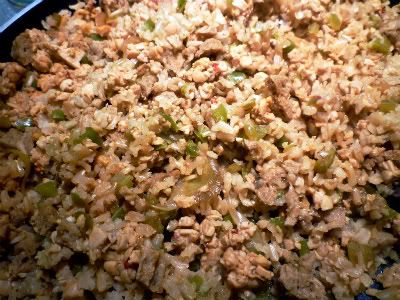 Bryant tones down the "dirty" in his vegan version, substituting tiny bits of seitan and crumbled tempeh in place of said giblets and the chicken liver that is also found in traditional dirty rice. Other than that, it retains the main components of dirty rice: The Holy Trinity (celery, bell pepper and onion), paprika, chili powder, cayenne, etc.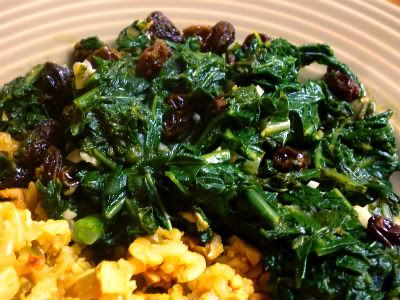 The Not-Too-Dirty rice is pretty hefty and filling on its own, so I just made some collard greens as a side dish.
I'm not even going to pretend like I know what the word "redux" means. Let's just say it means delicious.
This dish is a quick and yummy way to get some extra greens into your system. The collards are boiled until they are just bright green and then they are tossed with freshly squeezed orange juice, raisins and garlic. You can find the recipe in Vegan Soul Kitchen, or by clicking
here
.