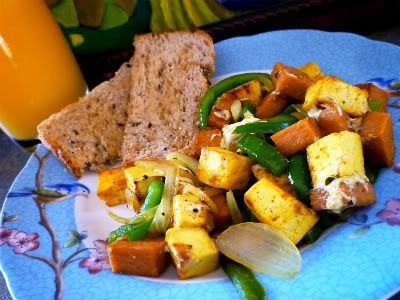 Before I was vegan, I was the girl begging the diner to make her something off the lunch menu at 8am. Bless the hearts of those who actually did it.
I was probably always meant to be vegan, because the texture of eggs has disgusted me for my entire life. I also tried bacon only once and promptly spit it back out and into a napkin. It's safe to say that breakfast food hasn't really been my thing.
I prefer to start my mornings with a kale smoothie, or a bit of last night's leftovers. Even so, I find savoury vegan breakfasts to be much more tolerable than their carnist counterparts and I've been known to enjoy a tofu scramble or two in my day.
For today's Mofo post I'm going to share with you our weekend breakfast specialty, because there's always something lovely about making a big breakfast on a chilly Sunday morning.
The TIV Breakfast Special
* Makes 4 servings
Ingredients
1 medium onion, sliced
1 green bell pepper, chopped
Sea salt (I use
spicy Herbamare
) and freshly ground black pepper, to taste
2 1/2 tablespoons canola oil
2 cups vegan ham, cut into 1 inch cubes*
1 teaspoon Braggs or Tamari
1 package firm or extra-firm tofu, drained and cut into 1 inch cubes
1 teaspoon turmeric
1/4 teaspoon chives
1/4 teaspoon cayenne pepper (or to taste)
1-2 tablespoons hot salsa
3/4 cup vegan cheese**
Hot sauce, for serving
* Vegan ham tastes the best in this recipe, but it can be difficult to get your hands on. If you can't find it, substitute vegan breakfast links, tempeh bacon or even just your favourite vegan sausage/hot dog.
** I used mozzarella
Daiya
, because it's what I had in the fridge this morning. Their pepperjack flavour tastes the best in this, though!
Directions
1) Heat 1 tablespoon of the canola oil over medium heat in a heavy bottomed pan or skillet. Add the onions and stir frequently, for about two minutes, until they look translucent. Add the green pepper and salt and pepper to taste and cook until softened, about two more minutes. Remove from heat and set aside in a bowl.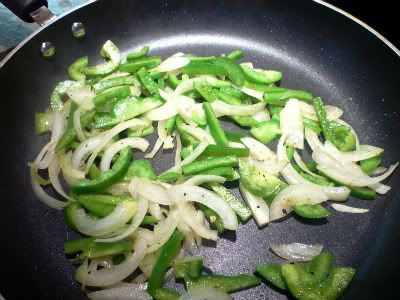 2) Toss the vegan ham with the Braggs/Tamari. Add 1/2 tablespoon of oil to the pan (if needed) and increase heat to medium-high. Add the vegan ham to the pan and saute until lightly browned, about three minutes or so. Remove from heat and place in the bowl with the onion/pepper mixture.
3) Mix the tofu with the turmeric. Add the remaining 1 tablespoon oil to the pan and toss the tofu in, stirring frequently. As the pieces begin to brown, mix in the cayenne pepper and chives. Cook together until browned and crispy on all sides, about three to five minutes. Stir in the salsa and heat through.
4) When tofu is ready, add the onion, pepper and ham mixture back into the pan. Sprinkle with vegan cheese of your choice and keep it on the heat until the cheese begins to melt slightly and everything is heated through. Serve with additional hot sauce and a side of whole grain toast.